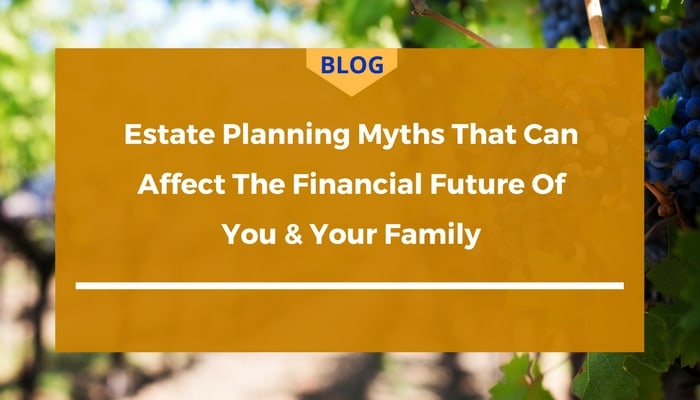 Estate planning is an area of widespread confusion that often leads to mistakes that can cost you a lot of time and money and cause a lot of stress to your family especially when you are incapacitated, or when you pass away. Here are the most common estate planning myths you should be aware of:
   The State Gets Your Assets If You Don't Have a Will
If you pass away without a will, your state will apply the "laws of intestacy" to determine who gets what. You can check various online resources to find out potential outcomes. If you don't like the court making the decision for you, you should get a will drafted. If you are okay with leaving the decision to probate but have young children, get a will drafted since it allows you to determine who will be the guardian of your children should the need ever arise.
   You Never have to Worry About Probate If You Have a Will
A will guides the court with regards to your wishes, but it does not avoid the probate process altogether. A will is a document that is open to the public, which means that it can be contested easily in court, costing the parties involved money and time. If you have real estate in multiple states, the different properties may have to go through probate separately.
   A Lawyer is Needed to Draft the Documents
You can draft most of the document yourself at little to no cost if your financial situation and family setting are relatively simple. You can use various online resources to prepare the appropriate documentation to help smooth out the process of division of your estate among your beneficiaries once you pass away.
   A Lawyer is Not Necessary at All
The documents you can draft yourself using various free online resources may cover most situations, but there could be a complicated issue that warrants professional legal advice that you might not even be aware of. It is why you should have a qualified real estate planning lawyer check the documents to ensure that everything is in perfect order.
   You Can Draft a Trust to Avoid Probate
One area where you are likely to need a lawyer is drafting the trust. One of the most common reasons why people draft trust is to avoid probate. However, you can use other easier and cheaper methods that could be sufficient for your needs. Jointly owned property, annuities, life insurance plans, and anything in a retirement plan avoids probate if at least one of the beneficiaries is still alive.
   A Trust Avoids Estate Tax
Trusts generally don't help you avoid taxes in and of themselves. However, if you are concerned about having a taxable estate, you should seek qualified legal counsel since some trusts can be used as part of your strategy for reducing or even eliminating estate tax liability.
   Estate Planning Is for the Wealthy
Estate planning is about ensuring that your finances are properly handled if you become incapacitated, that decisions affecting your health will be properly made, and your beneficiaries are well taken care of when you pass away. Estate planning is for anyone that may pass away or fall seriously ill, which means it is for everybody and not just the wealthy.
The Bottom Line
The misconceptions about planning are quite many, and it is quite understandable since it is always changing and can be quite complicated. Knowing the truth about the myths will help you avoid most of the mistakes.
Schedule Your Consultation with Our Experienced California Estate Planning Attorney
Celaya Law is an estate planning law firm in Napa, California. Attorney Anthony Celaya helps families in Napa, Sonoma, St. Helena, Calistoga, and the surrounding areas with setting up wills and living trusts, special needs planning, asset protection, probate administration, business law, and retirement planning.
Schedule a planning session with our experienced Napa attorney today to learn how we can help you and your family: (707) 492-3112.