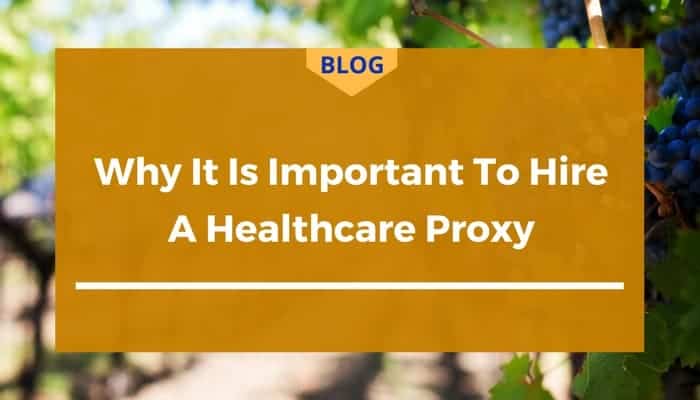 It is quite comforting to know that medical professionals today are ready to use various treatments and tools at their disposal to save our lives. It is also important to have the assurance that those caring for us at a time of crisis do so according to your desires and wishes.
Life-sustaining procedures such as feeding tubes, respirators, DNR orders, cardiac resuscitation, etc. might not be what you want. Treatment preferences usually reflect a person's religious views and personal values.
If you become unable to communicate your healthcare decisions to the care providers, your treatment preferences could be at risk. Fortunately, you can use a Healthcare Proxy to ensure that your wishes are carried out.
What is a Healthcare Proxy?
It is a legal document giving specific instructions and rights regarding medical care. It ensures that the person's preferences are adhered to in case he or she is unable to communicate their healthcare decision.
The Healthcare Proxy is designed to help you (the Principal) to select in advance the person that will be responsible for making your healthcare decisions if you become unable to make your own decisions regarding your health.
How Does a Healthcare Proxy Work?
It permits you to appoint an "Agent" who is allowed to make various medical decisions on your behalf if you are not able to communicate your wishes. The Healthcare Proxy can be more or less specific on the choices that you would like the Agent to make on your behalf.
The Healthcare Proxy goes into effect once the attending physician determines in writing that you are not able to communicate or make healthcare decisions yourself. If this determination is made on the basis of developmental disability or mental illness, the physician is required to consult with a specialist before making the final decision regarding the inability of the patient to make decisions.
Once it is determined that the patient is no longer able to make his/her own decisions, the medical facility will turn to the Agent named on the Healthcare Proxy to make healthcare decisions on his/her behalf.  The Agent's authority ceases once the patient regains his/her ability to make informed health decisions.
How Do You Choose the Best Agent?
The Agent should be a person you trust to make significant healthcare decisions in certain medical situations including the use of experimental treatments, treatment options for patients in persistent vegetative states (very deep comas), and the use of feeding tubes (food delivered to the person's stomach through a tube).
It is also important to consider the Agent's willingness to follow through on difficult healthcare decisions. Disagreements may occur among relatives, physicians, and friends as to the proper course of treatment. It is during such times that the Agent should communicate your wishes and ensure that your expressed wishes are followed.
The Bottom Line
It is essential to have a Healthcare Proxy in place so that in the event of your medical incapacitation, someone with your authority will be there to ensure that the medical decisions are made according to your wishes. While some simple forms are available at nursing homes and hospitals, getting the more extensive forms and the associated counseling from an experienced elder law attorney is the best way to make a Healthcare Proxy more effective.
Schedule Your Consultation with Our Experienced California Estate Planning Attorney
Celaya Law is an estate planning law firm in Napa, California. Attorney Anthony Celaya helps families in Napa, Sonoma, St. Helena, Calistoga, and the surrounding areas with setting up wills and living trusts, special needs planning, asset protection, probate administration, business law, and retirement planning.
Schedule a planning session with our experienced Napa attorney today to learn how we can help you and your family: (707) 492-3112.