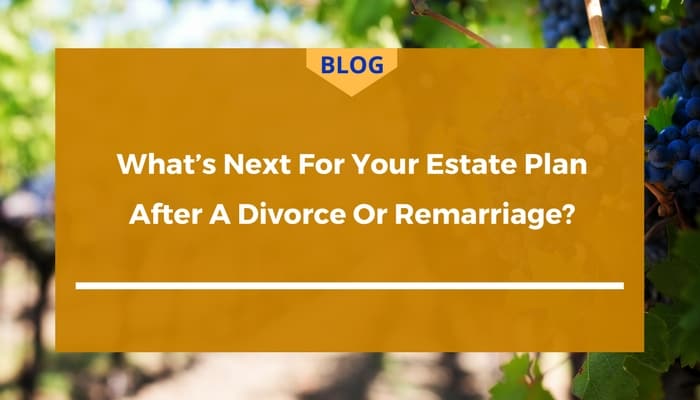 Throughout your life, a variety of events will occur that can affect your financial reality. Not only can big choices such as a second marriage or a divorce influence financial affairs upon signing, but these decisions can also affect your estate plans as well. Failure to consider and act on these matters can create various problems down the line. 
Whether you are going through a painful divorce or a celebratory second wedding, it can be easy to get caught up in the emotions and forget about the important legal matters. Sure, you sign the right papers for the courthouse to ensure that the wedding or divorce goes through, but what about everything else?
Don't let the emotional roller coaster overcome your better judgment. Take the time to update your estate plan to ensure your wishes are carried out should you pass away unexpectedly. Be prepared to do it immediately once a divorce is finalized. If you are remarrying, you can either do it directly before or after the big day. These tips will keep you on track:
Review Your Estate Plan and Other Related Documents
First, if you are making plans for either of these life events, plan to review all of the documentation in your estate plan. Also, review related legal papers such as your health care proxy and power of attorney to ascertain that they still reflect your wishes.
You need to ensure that your beneficiaries are correct in light of the changes occurring in your life. In addition to your life insurance policy, you should review any retirement or pension funds at this time.
Keep Close Details On Your Divorce Papers
When you are going through a divorce, it is important that you understand if you must keep your spouse listed on any or all of these legal documents. If you are currently planning to remarry and don't recall if you listed your former spouse, get a copy of the divorce and find out.
Work With Your New Partner On Your Estate Plan
Make sure that you have an honest and open line of communication with your new partner about your estate plan and your financial plans together. You don't want to have conflicts and miscommunication later on.
For folks who are going through a divorce with the intent to remarry shortly after it is finalized, it would be wise to consider that when determining how to handle your estate. There are several different things that you will need to consider when going through a divorce, such as ensuring your children receive your money and property through well-established trusts.
If you are planning for either of these life events, it is vital that you work with an experienced estate planning attorney who can help you to make the best choices possible to ensure that all of your legal documents are in order. The firm can aid in establishing trusts, wills and a host of other pieces of paperwork that are necessary to ensure your estate will be distributed as you wish.
Schedule Your Consultation with Our Experienced California Estate Planning Attorney
Celaya Law is an estate planning law firm in Napa, California. Attorney Anthony Celaya helps families in Napa, Sonoma, St. Helena, Calistoga, and the surrounding areas with setting up wills and living trusts, special needs planning, asset protection, probate administration, business law, and retirement planning.
Schedule a planning session with our experienced Napa attorney today to learn how we can help you and your family: (707) 492-3112.