Don't short-change your family. Protect them with a professionally crafted estate plan.
Join us for our Free Estate Planning Workshops every Wednesday at 6pm in English and 7pm in Spanish. Learn about how you can take the next steps towards estate planning with our live webinar.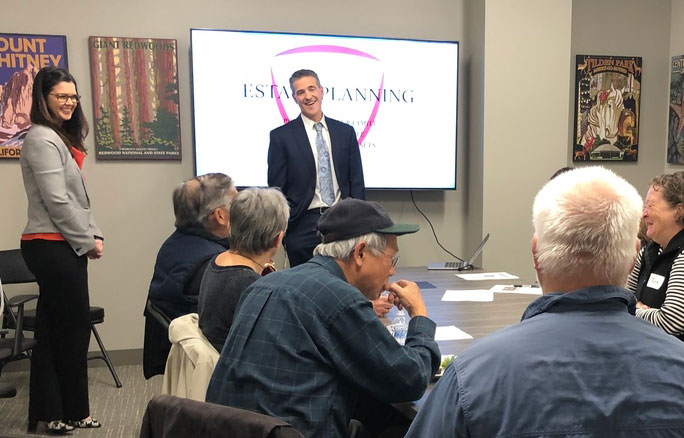 Protection
We ensure that your hard-earned assets are protected for you and your loved ones from creditors, divorce, taxes, and excessive probate costs.
Peace of Mind
Our firm develops a strategy that will give you peace of mind knowing your loved ones, whatever their circumstances, are taken care of.
Personal Touch
At Celaya Law, we make a special effort to be accessible, high-touch attorneys. We have a no-cost, lifetime client care program to accommodate family and asset changes that inevitably come.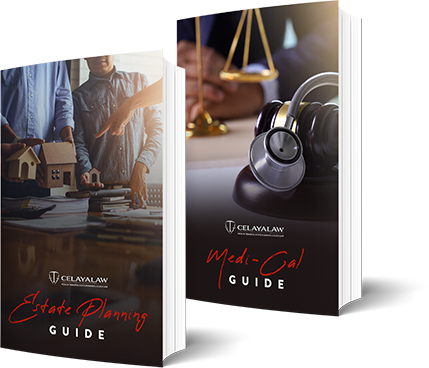 Download Our Free Guides
Enter your email to download one of our two guides to learn how to protect your children's inheritance by setting up a Living Trust, or qualify for Medi-Cal to pay for your long-term care.
Anthony Celaya is a very professional and efficient Estate Planning attorney. He recently completed our Family Living Trust and we are very happy with the process, the cost and the results. He listened carefully to our individual situation and prepared the document to meet our unique requirements. His fees are reasonable and competitive. He completed our document very quickly in approximately one week. He also provides continuing support after the trust is set up and is always available to answer questions or go over changes. He has a secure login to review trust information at his website. He's on the leading edge for estate attorney services and we would recommend him highly..
Anthony Celaya was extremely helpful in updating our Family Trust to ensure not only our wishes were covered, but also our Trust was tax efficient and protected the family. Anthony was very patient when answering a multitude of questions typically asked by a "lay person" who is not literate on Family Trust planning. Moreover, Anthony's attention to detail and follow-through has ensured we covered all the bases. I feel confident that as time goes on, Anthony will not only continue to support us, but also our family when the time comes.
Anthony Celaya expertly revised our trust documents and promptly answered the questions we had at that time and various inquiries we have had since. He regularly keeps in touch with clients on various issues pertinent to trust and tax planning. The fees for the services he renders are very reasonable, and my wife and I are confident that he will continue to look out for our interests. We highly recommend him.
Both my wife and myself did our wills and trust work with Anthony and his firm. He executed his duties at the time with professionalism and speed, and has been very helpful in staying in touch since then. We can recommend him highly.
Our extended family needed assistance with trusts and powers of attorney etc. urgently. Anthony made home visits and acted quickly to meet the need which was much appreciated. He was able to explain complex legal details and reassure us that the proper steps had been taken.
Anthony really took the time to listen to my needs and offered guidance and strategies to how best achieve our goals. He counseled me through all aspects of our Estate planning process and explained all documents throughly with an extreme attention to detail. The best way I would describe him is a person of integrity, honesty and wants what's best for his clients.
Anthony Celaya is a very experienced, professional lawyer that I highly recommend. He expertly guided my wife and I through the process of executing our Will and Trust documents to protect our family and assets and avoid probate.
Anthony is the most professional, knowledgeable, detailed oriented, and compassionate lawyer with whom my husband I have consulted. My husband and I recently moved to Napa, CA from Seattle, Washington, and we felt we needed to update our Will, and Estate planning, since we have four children and several grandchildren. Also, we have lived in many states, have had experience with many lawyers, and had routinely updated our Will. Anthony expertly guided us through the process to execute the new Will documents and Trust documents, to protect our family and assets, avoid probate. In the midst of finalizing small points of the Trust documents, my husband was unexpectedly hospitalized for several months in Stanford Hospital. Anthony called us several times, offered to visit us in Palo Alto while we were in the hospital, and met with my son in Napa, to address a few legal issues. Anthony has life experience which sets him apart from other lawyers, and was willing to help us in any way possible, to meet our legal objectives. My husband and I plan to visit Anthony again soon, because we feel it is important to review our Will and estate planning . I would definitely recommend Anthony for all Will and Estate planning needs. He is the above the rest.
We came in looking to create a trust and discuss estate planning in general. Our first meeting with Mr. Celaya was very relaxed and we came prepared with a list of our assets and a general idea of what we wanted in the trust. He provided several suggestions in how to accomplish our ultimate goals that we had in mind. We felt very comfortable and confident with his suggestions and explanations of legal terms and the estate process. We returned about 3-4 weeks later and signed the completed trust documents, wills, power of attorney forms, medical directives, etc. He assisted us with the recording and transfer of our assets to the trust. We highly recommend Mr. Celaya and his services to anyone looking to discuss estate planning.
Anthony is a consummate and caring professional and I would not hesitate to recommend him to anyone interested in setting up a trust. Creating a family trust was on our to-do list for years and we're so glad we were able to cross paths and finally get our financial planning act together with his guidance! Anthony's extensive knowledge, personable demeanor and straightforward approach immediately put us at ease and made for an extremely pleasant and efficient process. Thank you so much!
At Celaya Law, We Offer Sound Guidance for Your Estate Plan and Asset Protection Needs
"When it comes to working with families, I've seen it all—from children left without guardians, to estates locked up in probate, to inheritances completely lost to creditors. I've dealt with rogue siblings taking advantage of unsuspecting parents, inheritances lost to needless tax disasters, and businesses that have failed because owners didn't plan for their demise. Consequently, I have a passion for providing peace of mind through the best and most efficient estate planning strategies. I'll let you know exactly what your legal options are, counsel you regarding what I recommend doing and why, quote you a fixed price, and give you an exact date I'll have the work done. It's as simple as that." – Anthony Celaya, JD
"What I enjoy most is working with our clients one on one. At Celaya Law, we've developed a system that puts our clients first, so I have ample time to guide them through every aspect of planning their estate. Creating trustworthy relationships that will last a lifetime is my highest priority." – Meghan M. Avila
SCHEDULE A FREE CONSULTATION
6 Reasons to Choose Our Law Firm
Estate Planning & Elder Law Exclusively
At Celaya Law, our only focus is Estate Planning and Elder Law (Medi-Cal Planning). This means we are experts at what we do, and your estate and family matters are always our priority.
Relationship-Oriented, Accessible & High-Touch
Our team has a motto, Your Friendly Neighborhood Attorneys. We strive to be consistently available and accessible to all of our clients. You will be able to call on us at any time as questions or concerns arise.
Asset Protection
We draft plans to ensure your hard-earned wealth is transferred how and when you want it to family and loved ones. We protect your heirs by shielding inherited funds from possible business losses, marriage to a spouse with high debt risk, and also divorce. We also establish Special Needs Trusts for family members who need the added help to manage their funds.
Simplicity
During our consultations, we answer your questions and address your concerns. We then propose options with a timeline for your Trust's completion (our standard is within two weeks). We spell out what information we need from you and do all the necessary funding to ensure all your assets are included in your plan.
Client Care
We provide free, lifetime services to all of our clients, including family meetings, workshops, electronic documents, collaboration with financial advisers, funding new assets, and updating your plan as laws change. We ensure your plan is up to date and serving your best interests.
No Hourly Fees
Our services are quoted as one flat fee at the time of your initial consultation. We never up-charge for funding, recording, or notary services. Our stated fee includes everything related to your estate plan.
A variety of estate planning tools
Our Napa Valley Attorney Offers Sound Guidance for Your Estate Plan and Asset Protection Needs
Giving you the power to effectively plan for the years ahead
When you've worked hard your entire life to build up your assets and properties, you need to ensure you are doing everything you can to protect your wealth and your loved ones in the years to come. Attorney Anthony Celaya of Celaya Law works in close collaboration with individuals and families in Napa Valley, delivering an elevated level of service and personal attention throughout the estate planning process. The firm's team develops a stratey tailored to your needs and goals, enabling you to preserve more of your hard-earned wealth for your family, friends, and other beneficiaries.
A variety of estate planning tools at your disposal
No two estate plans are alike, which is why it is so important to work with an attorney who listens to you and outlines a strategy that's best for your situation and level of wealth. There are many different tools available to help you reach your goals, including:
Last Will and Testament: The most basic type of estate planning document, a will clearly outlines how you would like your estate distribute your assets and property upon your passing. A will does not have an impact on your affairs while you are still alive and does not address issues like what would happen if you become incapacitated.
A Durable Power of Attorney: Through a durable power of attorney arrangement, you grant another person (known as an "agent") to make important financial decisions on your behalf if you are no longer able to due to incapacitation. You may revoke a durable power of attorney arrangement at any time.
Advance Healthcare Directive: Also known as the healthcare power of attorney, an advance healthcare directive outlines your wishes for the medical care you would and would not like to receive in certain circumstances. You would grant another person the power to make these decisions for you if you become incapacitated due to a serious illness or injury.
Children's Guardianship: If you have minor children, it's important to account fo rwhat would happen to them if you and your spouse pass away or becom edisabled. The guardian you name should be an individual yo completely trust and who has the menta, physical and financial capability to take on the role.
Asset Protection: If you are a professional, small business owner, or property owner, we can help you protect your assets against potential litigation, judgements, lients, and fruad by establishing trusts, determining insurance needs, organizing investments and business entities so that you are able to enjoy the highest level of confidence in terms of the security of their accumulated assets.
In addition to these tools, it's important to plan for the possibility that you will need long-term care in the future. There are numerous strategies available to help ensure you do not lose a substantial portion of your wealth due to the high costs of nursing home care. Our knowledgeable attorney can assist with this critical aspect of your estate plan, as well.
Schedule Your Consultation with Our Experienced Napa Valley Estate Planning Attorney Today
To learn more about how you can create an estate plan that protects your wealth and offers you the peace of mind you need, speak with our experienced estate planning attorneys, Anthony Celaya and Meghan Avila.