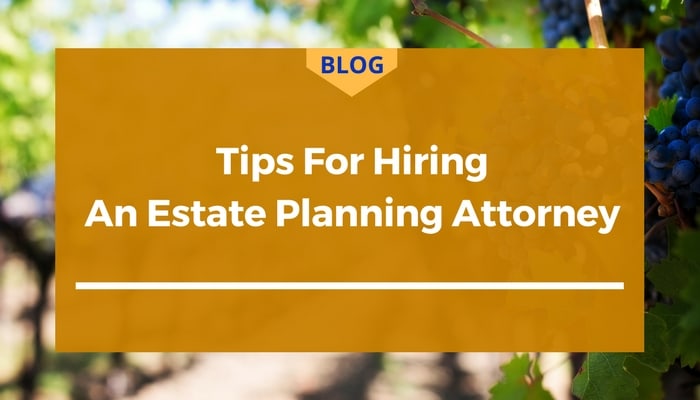 Most people need to hire the services of an attorney only a few times in their lifetime. An attorney can be an excellent resource, especially for estate planning. However, most people do not do their estate planning until it is too late. Nevertheless, it is important to plan your estate wisely to make sure that the next generation inherits the assets you have worked so hard to earn, without any unnecessary problems. A smart, experienced and reliable estate planning attorney can help you do the same.
Keep in mind that there is a lot of difference in the quality of service offered by various lawyers, and you need to do your homework to find the right estate planning attorney. Follow the tips mentioned below to choose the right estate planning attorney for your needs.
Experience
While qualification is necessary, experience is much more important when it comes to financial planning dealing with estates and trusts. You do not want to hire someone who does not have the necessary experience in creating trusts and estates to pass down the assets without any issues. It is recommended to hire an attorney who has at least three years of expertise in this field. Needless to say, you want a lawyer whose primary focus of practice is estate planning.
Document Review
Make sure the attorney sends the documents to you for review before everything is finalized. This will allow you to review the documents and ensure that everything is as you want. While your attorney may be highly experienced, there can be mistakes due to miscommunication. Therefore, the review process is essential to make sure everything is setup as per your wishes. As far as the time taken for estate planning is concerned, there should not be any rush in most cases. Instead, your focus should be on planning your estate to pass on the assets to your intended beneficiaries without going through the probate process.
Setting up a Living Trust
Setting up a revocable living trust helps with effective estate planning, but all attorneys do not help their clients fund a trust. You should ask this question to the attorney before hiring them.
Maintenance Program
Many people ignore the maintenance aspect of their estate planning. Keep in mind that the laws keep changing and a structure that was tax efficient a few years earlier may not be the most effective option available currently. Therefore, it is important to review the setup once or twice a year. Good attorneys will offer to do a review once or twice a year for a small fee to ensure that everything is as according to plan.
Pricing
As far as pricing is concerned, it is recommended to hire an attorney who works at a fixed price. You do not want someone who charges by the hour as you will not be very comfortable discussing important things with the attorney. Therefore, make sure that you ask about the pricing before you hire them.
Availability
You should make sure that either the attorney or someone in their office is always available in case you have a query regarding your estate. Also, the attorney should offer to help you in case there are any unexpected issues at a later date. You want to work with an attorney who isn't just about business. You may not feel comfortable dealing with such a person, and it is essential to find an attorney you are comfortable with.
Avoiding Probate Process
If the attorney tells you to set up a will, there is a chance that the attorney is more concerned about his income than efficient estate planning. Creating a living trust is a much more efficient way to pass on your assets without the probate process as it is extremely time-consuming and expensive. The answer to this question tells you a lot about the intentions of your attorney.
Conclusion
Estate planning is not easy, but an experienced and reliable attorney can make things easy for you by helping your design an efficient process. The tips as mentioned above will help you decide whether a particular attorney is the right choice for you.
Schedule Your Consultation with Our Experienced California Estate Planning Attorney
Celaya Law is an estate planning law firm in Napa, California. Attorney Anthony Celaya helps families in Napa, Sonoma, St. Helena, Calistoga, and the surrounding areas with setting up wills and living trusts, special needs planning, asset protection, probate administration, business law, and retirement planning.
Schedule a planning session with our experienced Napa attorney today to learn how we can help you and your family: (707) 492-3112.